Main content starts here, tab to start navigating
Menus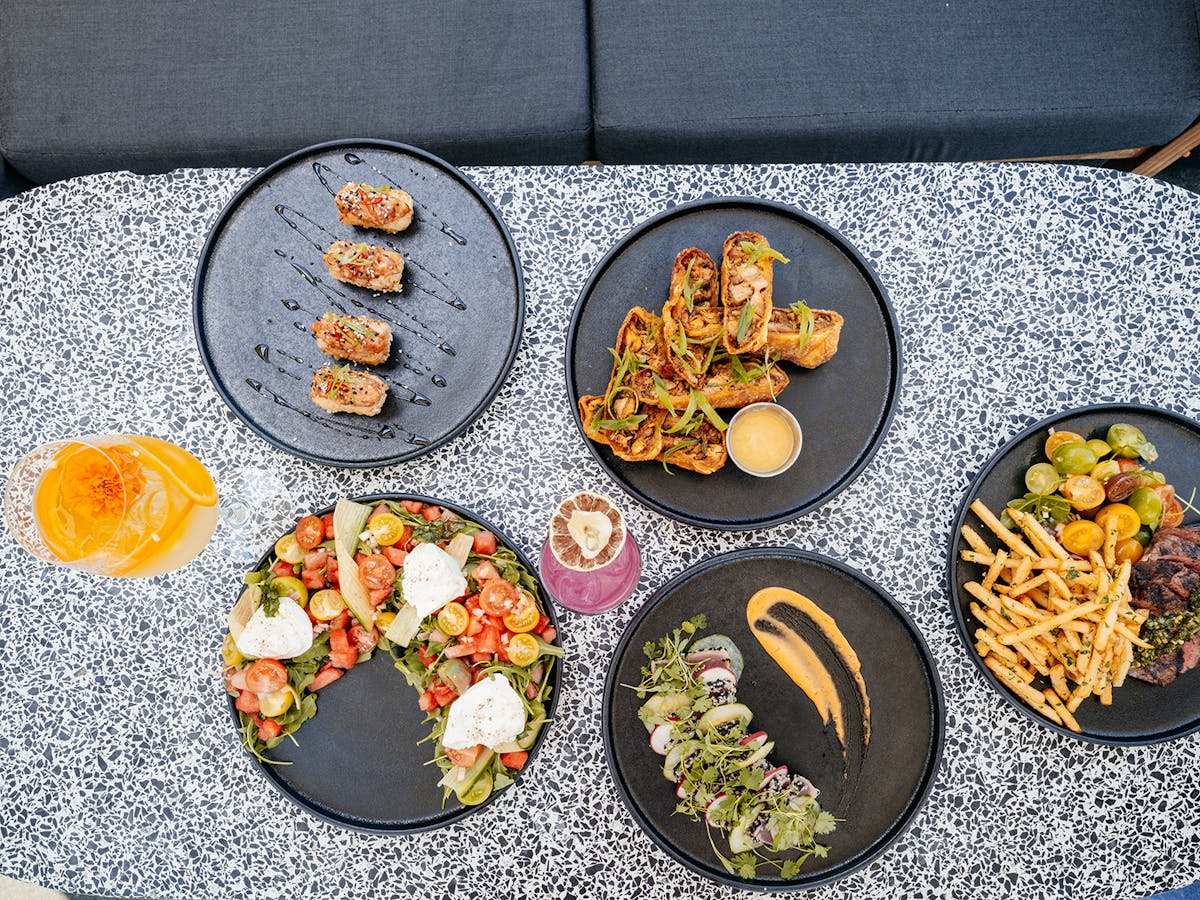 Slide 1 of 3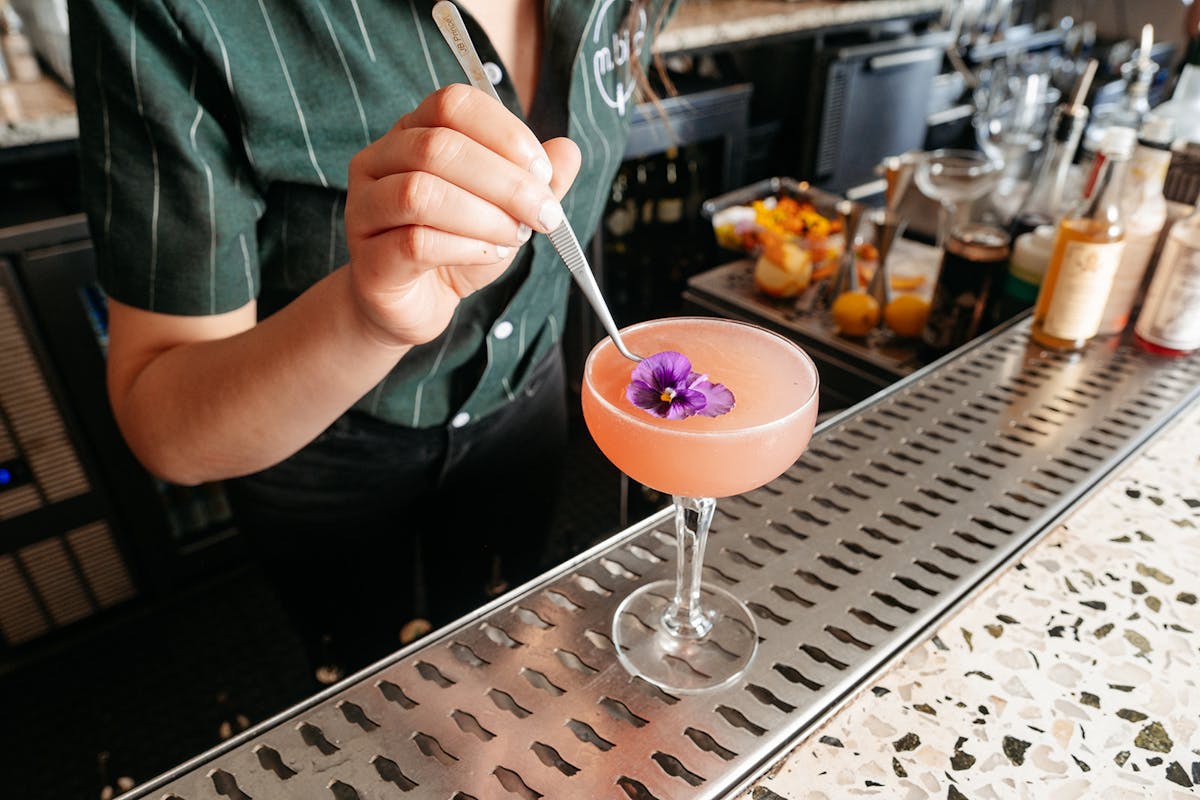 Slide 2 of 3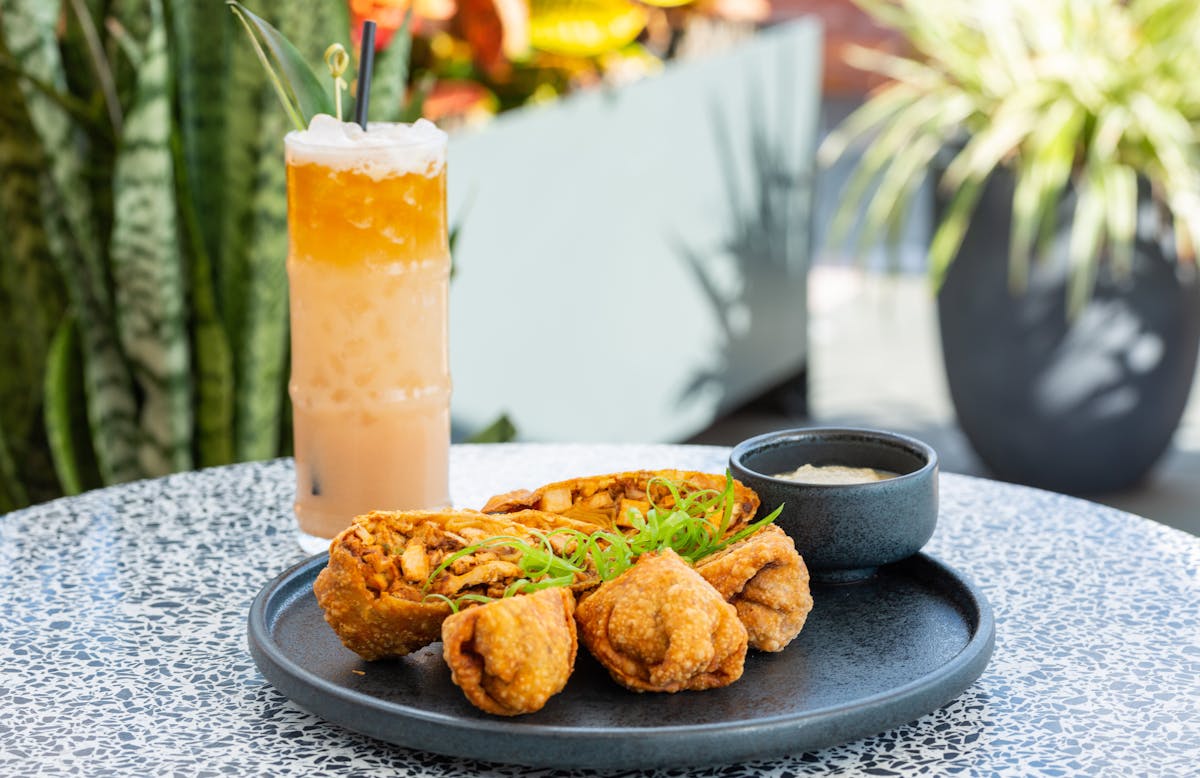 Slide 3 of 3
Long Drinks
Afterthot

(A cheeky spritz: Bubbly, bittersweet and refreshing)

Titos Vodka, Montenegro, Select Apertivo, Kiwi Compound, Lemon, Sparkling Wine

$13

DESERT PARADISE

(Crisp and crushable with a kick of spice)

Espolon Blanco Tequila, Desert Pear, Agave, Citrus, Firewater, Ginger Beer

$14

Bacardi Mojito

(Go with the classic or add your favorite flavor for $1: blackberry, coconut, lychee, passionfruit, peach, pomegranate, raspberry, strawberry, watermelon)

Bacardi Superior Rum. sugar. mint. lime. seltzer

$14

For the Boys

(This summer shandy makes every day taste like a Saturday)

Tullamore Dew, Jai Alai IPA, Passionfruit, Lemon

$14

Strawberry Moon

(A bittersweet Collins perfect for the last full moon of spring, the first one of summer, or anytime in between.)

Tanqueray No. Ten, Select Apertivo, Cocchi Vermouth di Torino, strawberry, lemon, seltzer

$14

COCONUT BALI HAI

(Like your favorite coffee met up with your favorite pina colada and took a trip to Bali together.)

Santa Teresa 1796 Rum, Coconut Cartel Rum, Borghetti, Cold Brew, Coco Lopez, Pineapple, Lemon

$15
On the Rocks
IN BLOOM

(Light, fresh, beautiful, and floral. Like wildflowers in the spring.)

Ketel One Vodka, Giffard Lichi-Li, Grand Marnier, Sauvignon Blanc, Citrus, Orange Blossom Water

$14

Billy Ocean Water

(Get outta my dreams and into this cocktail. This lime and coconut concoction is for all the Caribbean queens and kings.)

Diplomatico Planas Rum, Rum Haven Rum, Giffard Blue Curacao, Coco Lopez, lime, orgeat

$13

Don Julio Margarita

(Go with the classic, make it spicy, try it with Del Maguey Vida Mezcal, or add your favorite flavor for $1: blackberry, passionfruit, peach, pomegranate, raspberry, strawberry, or watermelon)

Don Julio Blanco, agave, lime

$14

Down South

(Take a trip down south with this smoky, spicy, round, and juicy favorite.)

400 Conejos Mezcal, Mango-Habanero Shrub, Lemon, Tajin

$14
Served Up
WATERMELON SUGAR

(She's light and refreshing and perfect for the summertime.)

Soul Cachaca, Watermelon, Basil, Lime

$14

GREY GOOSE ESPRESSO MARTINI

(The perfectly crafted nightcap.)

Grey Goose Vodka, Mr. Black, Cold Brew, Demerara

$15
Eats
Shareables
Truffle Fries

french fries. herbs. white truffle oil. parmesan cheese.

$12

HOUSE HUMMUS & BABA GHANOUSH

roasted spicy carrot hummus. Mediterranean roasted eggplant dip. shishito peppers. tomatoes. cucumber. za'atar pita bread.

$18

SPICY TUNA RICE CAKES

crispy rice. spiced yellowtail tuna. chili pepper. sweet soy drizzle.

$23

CHEESE FONDUE

house-made beef sausage. Monterey Jack. queso fresco. cheddar. served with chorizo, beef sausage, apples and toast points.

$19

HOT FRIED CHICKEN SLIDERS

hot chili-crusted chicken medallion. sweet pineapple coconut jam. tangy pickles. brioche.

$16

Chips & Dips

Layers of queso, pico de gallo, and black bean puree. red adobo tortilla chips.

$10

Jerk Chicken Eggrolls

Jerk chicken. green onions. coconut pineapple sauce.

$17
Sweets
Churros & Gelato

cinnamon sugar. toasted coconut. tres leches.

$15

WHITE CHOCOLATE BREAD PUDDING

house-made bread pudding. white chocolate. honey. mascarpone cheese. strawberries.

$15
Entrees
RED CHILI BEEF TACOS

braised ancho chili beef. black beans. blistered shishito peppers. queso fresco. lime herb rice.

$18

SPICY GARLIC SHRIMP

garlic shrimp. chorizo. homemade tomato sauce. fines herbes. grilled baguette.

$21

Rooftop Mac N Cheese

queso. shell pasta. panko dust.

$14

Add chicken $6

WATERMELON BURRATA SALAD

fresh diced watermelon. burrata. arugula. heirloom tomatoes. cucumber ribbons. crispy basil. light & sweet white balsamic vinaigrette.

$15

Add chicken $6

Add shrimp $8

STEAK FRITES

chargrilled steak. parmesan truffle fries. marinated heirloom tomatoes. chimichurri.

$28

JERK CHICKEN TACOS

jerk chicken. pickled red cabbage. shaved mango. avocado crema. flour tortilla. lime herb rice.

$15

M-BURGER

6oz. grilled patty. arugula. chipotle cherry. brie. bacon. crispy onions. sesame brioche bun. parmesan truffle fries.

$18

PROSCIUTTO SANDWICH

pressed ciabatta bread. romesco sauce. arugula. mozzarella. prosciutto. tomato. parmesan truffle fries.

$16

SESAME SEARED TUNA

sesame seared ahi tuna. cucumber. radishes. citrus ponzu. micro cilantro.

$28
Available Saturdays & Sundays 12 - 4 p.m.
Join us for a live DJ on the rooftop Saturdays 1 - 5 p.m. & Sundays 3 - 7 p.m.
Snacks
BRUNCH BURGER

sesame brioche. guacamole. bacon. fried egg. cherry chipotle. queso fresco. parmesan truffle fries.

$18

BREAKFAST ANCHO BEEF TACOS

braised ancho chili beef with scrambled eggs. grilled shishito peppers. queso fresco. black bean puree.

$17
Sips
Bloody Mary

Reyka vodka. house made bloody mix. lemon

$11

Mimosa

bubbles. orange juice.

$11

French 75

gin. bubbles. lemon.

$12
Catering Menu
Each order serves 20-25 people.
Spicy Garlic Shrimp

garlic shrimp. chorizo. homemade tomato sauce. fines herbes. grilled baguette

$250

PROSCIUTTO SANDWICH

pressed ciabatta bread. romesco sauce. arugula. mozzarella. prosciutto. tomato.

$195

Cheese Fondue

house-made beef sausage. Monterey Jack. queso fresco. cheddar. served with chorizo, beef sausage, apples and toast points.

$220

Hot Fried Chicken Sliders

hot chili-crusted chicken medallion. sweet pineapple coconut jam. tangy pickles. brioche.

$125

Grilled Steak

sliced marinated steak. green romesco.

$375

House Hummus & Baba Ghanoush

roasted spicy carrot hummus. Mediterranean roasted eggplant dip. shishito peppers. tomatoes. cucumber. za'atar pita bread.

$150

Grilled Angus Beef Slider

mini burgers. cherry chipotle glaze. gooey brie. arugula.

$180

Watermelon Burrata Salad

fresh diced watermelon. burrata. arugula. heirloom tomatoes. cucumber ribbons. crispy basil. light & sweet white balsamic vinaigrettes.

$150

Tuna Nachos

spiced tuna. tomatoes. avocado. spicy aioli. pico de gallo. crispy wonton chips.

$225

Jerk Chicken Taco

jerk chicken. pickled red cabbage. shaved mango. avocado crema. flour tortilla

$175

Chips & Dips

layers of queso, pico de gallo, and black bean puree. red adobo tortilla chips.

$125

Jerk Chicken Egg Rolls

jerk chicken. green onions. coconut pineapple sauce.

$125

Rooftop Mac & Cheese

queso. campanelle pasta. taco-seasoned panko crust.

$150

TRUFFLE SHOESTRING FRIES

shoestring fries. herbs. parmesan cheese. white truffle oil.

$150

ANCHO CHILI BEEF TACOS

braised ancho chili beef. black beans. blistered shishito peppers. queso fresco.

$175
DESSERTS
Each order serves 20-25 people.
WHITE CHOCOLATE BREAD PUDDING

House-made bread pudding. white chocolate. honey. mascarpone cheese. strawberries.

$165

Churros

cinnamon sugar. toasted coconut. tres leches

$125
Rum List
Afro Head

7 Year | Trinidad

$11

Afro Head

XO | Trinidad

$12

Appleton Estate

21 Year Limited Edition | Jamaica

$28

Appleton Estate

Signature Blend | Jamaica

$10

Avua 13

Amburana | Brazil

$13

Bacardi

4 Year | PR

$10

Bacardi

10 Year | PR

$11

Banks

5 Island Blend | Blend

$10

Banks

7 Golden Age | Blend

$11

Bayou

XO | Louisiana, USA

$18

Brugal

1888 | DR

$10

Cruzan

Single Barrel Select | St. Croix

$9

Diplomatico

Ambassador | Guyana

$46

Diplomatico

Reserva Exclusiva | Venezuela

$10

Don Q

Double Aged Vermouth Cask | PR

$13

Don Q

Sherry Cask | PR

$10

Dos Maderas

5+5 PX | Barbados/Guyana

$10

Flor De Caña

4 | Nicaragua

$8

Flor De Caña

12 | Nicaragua

$12

Foursquare Distillery

Empery | Barbados

$21

Gosling's

Black Seal | Bermuda

$8

Hamilton

151 | Guyana

$10
Hamilton 86

Demerara Rum | Guyana

$10

High Wire Distilling

Rhum Agricole | South Carolina, USA

$21

Leblon

Brazil

$10

Mezan

2005 Single Distillery | Guyana

$14

Mezan 2006 Single Distillery

2006 Single Distillery | Panama

$12

Mount Gay

1703 Master Select | Barbados

$28

Papa's Pilar

Platinum Blonde | Blend

$10

Paranubes

Aguardiente de Cana | Oaxaca, Mexico |

$11

Plantation

3 Star | Jamaica/Trinidad

$10

Plantation

2003 Grand Terroir | Trinidad

$15

Plantation

Original Dark | Jamaica/Trinidad

$10

Plantation

Pineapple | Jamaica/Trinidad

$10

Plantation

XO 20th Anniversary | Barbados

$14

Rhum Barbancourt

Estate Reserve 15 Year | Haiti

$13

Rhum Clement

Select Barrel | Martinique

$11

Rhum JM

Gold | Martinique

$10

Rhum JM

VO | Martinique

$11

Ron Zacapa

23 Solera | Guatemala

$14

Ron Zacapa

XO Centenario | Guatemala

$16

Sailor Jerry

Spiced Rum | Virgin Islands

$8

Santa Teresa 1796

1796 | Venezuela

$12

Smith & Cross

Traditional | Jamaica

$10
Beer
Cigar City Jai Alai

IPA

$5

Coppertail Seasonal

$5

Seasonal Beer

Ask server for the current selection and price

Stella Artois

Belgian Pilsner

$6

Bud Light

16 oz

$5

Free Dive IPA

$6

Modelo Especial

16 oz

$6

Yuengling

$6

High Noon

$7

White Claw

$7
From the Vine
Bubbles and Rosé
Le Contesse Doc

Prosecco, Treviso, Italy

$9

$36

Francois Montand

Blanc de Blancs, Jura, France

$9

$36

Francois Montand

Sparkling Rosé, Jura, France

$9

$36

Whispering Angel

Rosé, Cotes de Provence

$11

$44

Veuve Clicquot Yellow Label

Brut

$22

$149
Whites
Stonecap

Chardonnay, Columba Valley

$8

$32

Cantina Lavis Doc

Pinot Grigio, Trentino, Italy

$8

$32

Crossings

Sauvignon Blanc, Marlborough, NZ

$12

$48

Sonoma-Cutrer

Chardonnay, Sonoma Coast

$13

$52
Reds
Stonecap

Cabernet Sauvignon, Columbia Valley

$8

$32

Elouan

Pinot Noir, Oregon

$12

$48

Catena Vista Flores

Malbec, Valle de Uco, Argentina

$10

$40

Beringer Knight's Valley

Cabernet Sauvignon, Sonoma County

$14

$59
Champagne Reserved
(Bottle Only)
Perrier-Jouet

Grand Brut

$175

Louis Roederer

Cristal 2008

$475

Dom Pérignon

Brut 2008

$349

Veuve Clicquot

Brut Rose

$175
Vodka
BELVEDERE

$375

Grey Goose

$325

Ketel One

$350

Titos

$300
Gin
Bombay Sapphire

$250

Hendricks

$225

Tanqueray Ten

$275
Rum
Appleton

$200

Bacardi Silver

$150

Sailor Jerry

$150

Santa Teresa 1796

$250
Tequila
Don Julio Blanco

$300

Casamigos Blanco

$325

Casamigos Reposado

$375

Casamigos Anejo

$400

Don Julio 1942

$750

Patron Silver

$350
Bourbon
Basil Hayden

$325

Bulleit

$250

Knob Creek

$275

Maker's Mark

$250

Woodford Reserve

$300
Whiskey
Crown Royal

$325

Jack Daniel's

$250

Jameson Irish Whiskey

$300
Scotch
Glenfiddich 12

$325

Johnny Walker Black

$350
Champagne
Dom Perignon

$350

Veuve Clicquot Yellow Label

$150

Louis Roederer Cristal

$550